Total cost needed to build the new city of Palu is around Rp6 trillion.
REPUBLIKA.CO.ID, JAKARTA -- The government will build a new city of Palu in Central Sulawesi, Public Works Minister Basuki Hadimuljono disclosed here on Monday. The old city of Palu was recently hit by earthquake, tsunami, and liquefaction,

"As for Palu, three disasters have been recorded here, namely earthquake, tsunami, and liquefaction. So it would be impossible to rebuild it," he stated at a press conference after a limited cabinet meeting led by President Joko Widodo (Jokowi) here on Monday.

He noted that the handling of Palu disaster will be different from that of Lombok, where rebuilding could still be carried out in the same location.

"Palu has changed entirely, and so we plan to build a new Palu city. We have to make a new master plan that will adopt all (elements of the old city)," he remarked.

He added that the city planning will be held under the management of the regional deputy of the National Development Planning Agency (Bappenas).

Hadimuljono explained that discussion of the master plan would involve the Meteorology, Climatology and Geophysics Agency (BMKG) and geologists.

"In the next two weeks, I will report it to the vice president and discuss it with the regional government and others for a follow up," he elaborated.

He added that the master plan would be finished as fast as possible so that it could be implemented in 2019. Hadimuljono revealed that since it would be impossible to rebuild on the same location, temporary shelters would be prepared for the survivors.

"Around 1.2 thousand units of temporary shelter will be set up, and each one will accommodate 10 families. They will also be complete with kitchen, bathroom, sanitary, and other facilities," he noted.
Also read: Rehabilitation, reconstruction in Palu to start in November

He remarked that the main focus now is to complete the master plan, build temporary shelters, and clean up the city. "I promised to finish it within two weeks," he added.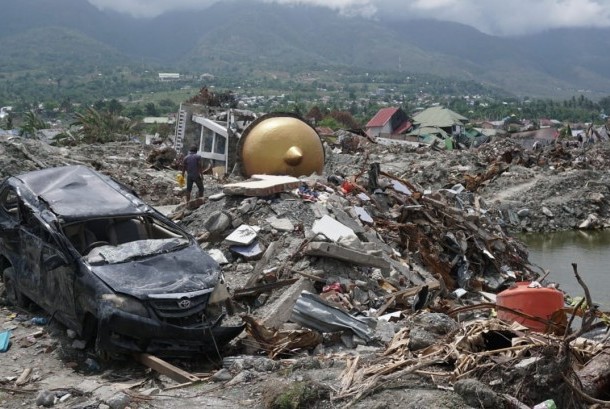 Balaroa housing complex, Palu, Central Sulawesi, Monday (Oct 15).

Regarding restoration of infrastructure, he said that temporary school buildings, hospitals, and universities will be finished within two years from 2019-2021 in Palu. He revealed that he could not as yet tell the total cost needed to build the new city, but it is estimated to reach up to Rp6 trillion.

He pointed out that there are three alternatives for the location of the new city, which are Duyu, Pondok, and Pembewe. "The locations are still being studied with regard to their geological condition by a team," he revealed.
sumber : Antara