In time of crisis, the army takes control as local government unable to move.
REPUBLIKA.CO.ID, JAKARTA -- Vice President Jusuf Kalla highlighted the need for equipping the state civil apparatuses (ASN) with knowledge of crisis management. It was important to have such knowledge to ensure better management when a disaster or conflict strikes their respective area.

The vice president pointed out that the civil servants' crisis-handling capability is apparent from the earthquake and tsunami natural disasters that struck Donggala and Palu City, Central Sulawesi Province.

"The Central Sulawesi governor and mayor of Palu cannot move, as their subordinates do not exist and do not appear because of critical conditions. I mean that from now on, the LAN (Institute of State Administration) provides lessons on crisis management," the vice president stated on the occasion of debriefing of Level I Force XXXVIII and XL National Leadership Training) at the Jakarta Vice Presidential Palace on Monday.
Also read: Death toll of Central Sulawesi catastrophe rises to 1944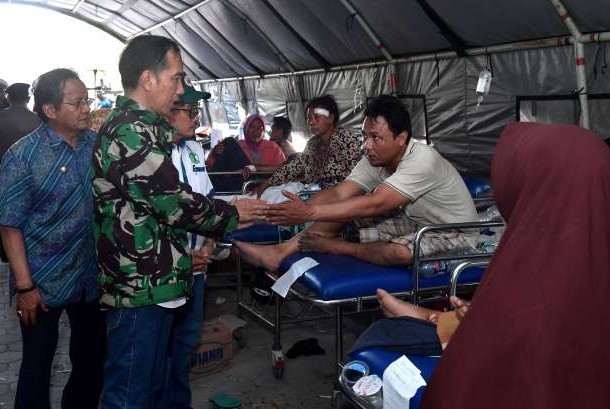 Central Sulawesi Governor Longki Djanggola (left) accompanied President Joko Widodo (second left) visited earthquake and tsunami victims in Palu, Central Sulawesi, Sunday (Sept 30).

In the event of natural disasters in Donggala and Palu, the local government had lost control of the government since its human resources were the victims.

"All those in control of the army, all assistance through the military resort command (Korem), task force through the Korem, which regulates the army. Where are the civilian authorities? Where is the Governor's Office? Where is the Mayor's Office? Of course, they also got hit, but immediately lost control of the government. Besides this, maybe it is because of special reasons," the vice president explained.

The Central Sulawesi provincial government, Palu city government, and Donggala regency government were unable to reach out to and assist people affected by the disaster owing to a major hit to infrastructure and communication networks by natural disasters. Army troops brought in to respond to emergency conditions were certainly not soldiers from Palu but from other regions.

"Once there are no cellphones and electricity, everything dies. However, why can the army? This is because it has a strong hierarchy. Now, of course, it becomes a question if the critical situation is actually needed by the government," he added.

Hence, Vice President Jusuf Kalla emphasized that leadership capacity alone is not sufficient for regional heads and state civil apparatuses but they must also have the sensitivity to fulfill their duties in critical conditions.
sumber : Antara