Police says law will still be imposed no matter who will win presidential election.
REPUBLIKA.CO.ID, JAKARTA — National Police said no one can intervene law, including the president. The statement came, related to the integrity pact of Ulema Ijtima II that was signed by presidential contender Prabowo Subianto that pledged to solve case involving Islamic Defenders Front (FPI) grand imam Habib Rizieq Shihab.

One of the points in the integrity pact signed by Prabowo was that if he and Sandiaga Uno are win the 2019 presidential election, then they will send Habib Rizieq back to Indonesia and guarantee to close the case. National Police spokesman Dedi Prasetyo asserted that although Prabowo becomes a president, the law will still be imposed.

"So far the president has always said that the legal process is handled by law enforcement officials. That's not true if there's intervention," said Dedi on Monday (Sept 17).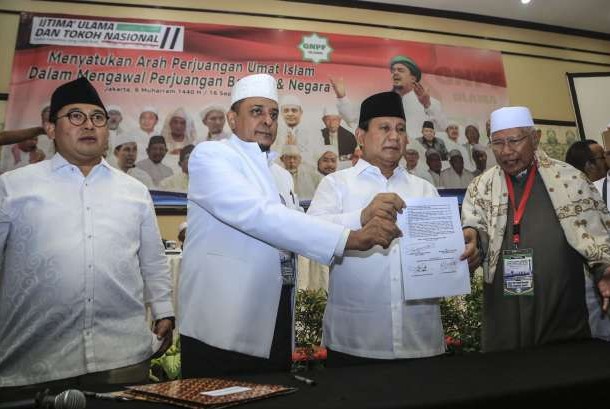 Chairman of National Movement to Safeguard Ulemas Fatwa (GNPF Ulama) ustaz Yusuf Muhammad Martak (second left) and presidential contender of the opposition camp Prabowo Subianto (second right) show integrity pact signed by the two parties during Ulema Ijtima II in Jakarta, Sunday (Sept 16).

Dedi asserted that police investigators will work according to the legal corridor without any intervention from any party. He said the team will work based on evidences.

Earlier, Prabowo along with National Movement to Safeguard Ulemas Fatwa (GNPF Ulama) signed an integrity pact, as a result of Ulema Ijtima II event on last Sunday (Sept 16). Prabowo, among others, was asked to use his constitutional rights as president to carry out the rehabilitation process, to ensure the return of Habib Rizieq, and restore Habib Rizieq rights as Indonesian citizens.

Prabowo was also asked to provide justice for the ulemas, activists 411, 212, and 313 who had or currently are undergoing legal proceedings through accusations of treason.

Currently, Habib Rizieq, who is also chairman of the GNPF Ulama Board of Trustees, was still in Mecca, Saudi Arabia. Habib Rizieq has been ensnared with seven cases after leading a series of Action to Defend Islam (Aksi Bela Islam) in 2016. However, the police have dropped the first reported case about Pancasila defamation on May 2018 over the lack of evidence.

Habib Rizieq left Indonesia to Saudi Arabia in April 2017 to perform Umrah (minor hajj) with his family and never returned to his homeland since then. On May 2017, police named him a suspect in a pornograpy case that came to light when sexually explicit WhatsApp chats allegedly exchanged between him and Firza Husein were leaked online.

He was named a suspect without undergoing questioning as he had evaded two summons from the police. Habib Rizieq was put on the police's wanted list for allegedly violating law. He threatened with Article 4 paragraph 1 juncto Article 6 juncto Article 32 and Article 9, juncto Article 35 Law No. 44/2008 on pornography.

However, in June, investigation termination warrant (SP3) of alleged steamy conversation case was issued by the police. The police handed over the warrant ahead of Eid al-Fitr.

Head of National Police Public Relations Muhammad Iqbal said investigation of the case was terminated because the video uploader has not been found. "The investigators stop the case investigation as requested by the suspect's lawyer," Iqbal told the reporters on Sunday (June 17).