REPUBLIKA.CO.ID, BANDUNG -- National Mandate Party (PAN) patron Amien Rais conveyed his oration in a demonstration to support Buni Yani on Tuesday (November 14). In his oration, he said the verdict for defendant who stands trial for allegedly spreading hate speech was too heavy.
"If the verdict is light, we could accept, but if not, we will do a legal effort," he said.
Amien assessed, public must always monitor the trial of Buni Yani. The former chairman of People's Consultative Assembly (MPR) also expressed his appreciation to the National Police and Indonesian Military (TNI) that have secured the hearings.
Buni allegedly edited a video of former Jakarta governor Basuki Tjahaja Purnama (Ahok)'s speech.
On October 6, 2016, Buni Yani uploaded a video of Basuki Tjahaja Purnama (Ahok)'s speech citing Al Maidah verse 51 of the Quran during his working visit to Seribu Islands on September 27, 2016.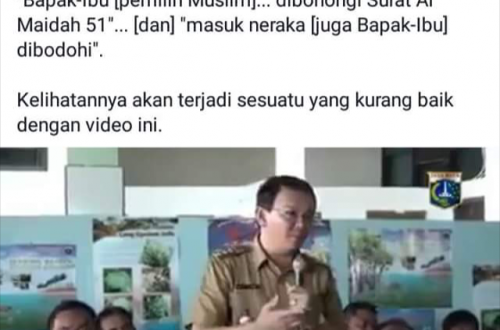 Three sentences that Buni Yani posted commenting the video of Basuki Tjahaja Purnama speech have made him defendant. Screenshot of Buni Yani's Facebook account.
Mentioning the verse as a lie, Ahok's speech caused an uproar and massive serial demonstrations.
Ahok was found guilty and sentenced to two years in prison on May 9 for defamation.
Previously, prosecutor Andi M Taufik said Buni had violated Article 32 of 2011 Information and Electronic Transactions Law or Cyber Law. Buni was expected to be jailed for two years and fined Rp 100 million.