Japanese foreign minister meets with his Indonesian counterpart on Monday (June 25).
REPUBLIKA.CO.ID, Indonesian Foreign Minister Retno Marsudi and her Japanese counterpart Taro Kono have agreed to strengthen bilateral relations during the 6th Indonesia-Japan Strategic Dialogue in Jakarta on Monday, which also marked the first official visit of Minister Kono to Indonesia.

The strategic dialogue, which was held to coincide with the celebration of the 60th anniversary of Indonesia-Japan diplomatic relations, is intended to strengthen bilateral cooperation in the field of political security, economy, trade and investment, people-to-people contact, and also the exploration of strategic cooperation potentials.

"Indonesia and Japan are not just strategic partners. We are also two important strategic countries in the region," Marsudi stated in a joint press statement after the meeting.

Our partnership contributes not only to the prosperity of the people of the Indonesia and Japan but also to regional peace, stability and prosperity, she added.

Indonesia-Japan's economic cooperation has continued to grow in trade, investment, and tourism. In 2017, Japan's investment in Indonesia ranked second, with a total value of US$5 billion. The total value of trade between both countries increased by 13.54 percent compared to the value in 2016, reaching $33.03 billion, which also makes Japan the second biggest trade partner of Indonesia.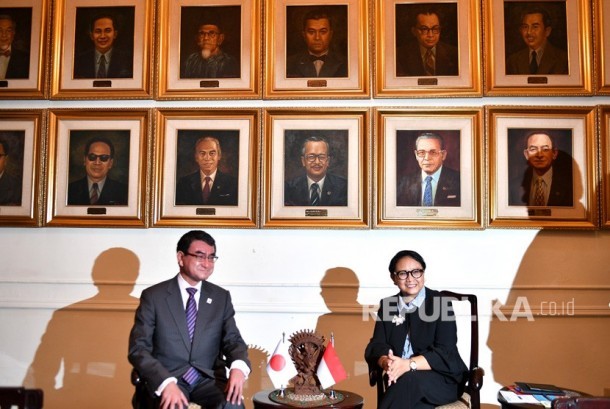 Indonesian Foreign Affairs Minister Retno Marsudi (right) receives her Japanese counterpart Taro Kono to hold the 6th strategic dialog of Indonesia-Japan at her office, Jakarta, Monday (June 25).
Today's meeting between Marsudi and Kono stressed on how to further strengthen this positive momentum, working towards making Indonesia as a production base for Japanese manufacturing products for the third market, including ASEAN.
"In this regard, we agreed to intensify and expedite the General Review on Indonesia-Japan Economic Partnership Agreement with the target to conclude by this year," Marsudi explained.
On infrastructure development, both ministers agreed on the need to accelerate Japanese project investment in Indonesia, among others the MRT project, Patimban Port in West Java, and railway from Jakarta to Surabaya.
On the maritime cooperation, the two ministers agreed to strengthen cooperation, particularly on the capacity building for infrastructure development, fisheries, and maritime safety.
"We welcome very much the signing of the 'Exchange of Notes on the Integrated Marine and Fisheries Centers and Fish Markets between Indonesia and Japan as a framework for cooperation to develop integrated fish market and fishing port for Indonesia's outer islands," she pointed out.
The exchanged notes, which were signed by both parties after the bilateral meeting, will facilitate the development of fisheries centers in Biak, Moa, Morotai, Natuna, Sabang, and Saumlaki.
In the context of maritime cooperation, Kono sees such the collaboration as very meaningful for Japan's Free and Open Indo-Pacific Strategy as well as Indonesia's Global Maritime Fulcrum Vision.
"Japan will continue to implement the development of (Indonesia's) outer islands as agreed by September last year," he emphasized.
On the security context, Japan has ensured the supported activities to counter violent extremism and terrorism, including providing a biometric security system in Gelora Bung Karno Stadium for the Asian Games 2018.
Japan and Indonesia are currently working together to organize a training workshop for relevant countries using such biometric security system.
Last but not least, Japan will continue to help Indonesia's infrastructure development by improving business development to attract more Japanese investment in the country.
"We are trying to increase the level of people-to-people exchange to one million people both ways, as we would like to promote tourism further," Kono concluded.
sumber : Antara